What is Web CEO and is it a platform that's worth joining? There is a free membership option, but to get the most out of it your really need to upgrade to a paid account. So what does it do and is it of any real value to you? These are the questions that need to be answered.
Let's take a closer look and find out…
Copy how I make $1000s a month online in passive income!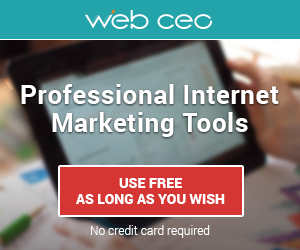 Company Name: Web CEO
Website:  www.WebCEO.com
Prices Starting At: FREE to get started
My Rating: 8.5/10
~ The Web CEO Review ~

Trying to stand out on the internet can take a lot of work and loads of smarts. Good SEO helps, as does having an active social media presence. Quality backlinks, website reputation, being an authority, and having your site submitted to directories and even minor search engines all goes a long way collectively to gaining visibility on the internet.
But what if you don't know how to do all this stuff, or just simply don't have the time? What's the answer?
You could hire the services of a professional SEO company, but they only do part of the job. What your business really needs to thrive online is a complete online marketing package, and that's where Web CEO come to the rescue.
What Is "Web CEO"?

Web CEO has been around for years and I've been a member since around 2008. More than 1 million businesses take advantage of this marketing platform.
It is a powerful internet marketing platform that focuses on SEO, Social Media Marketing (SMM) and branded reports. The great thing about Web CEO is it's free to join and take the platform for a test drive.
This platform is kind of like having your very own SEO expert as well as Google Analytics all rolled into one. And that's just on the SEO side of things. It's not only designed for businesses to use themselves, you can also use the platform, data and branded reports to give your own clients details of how their SEO programs are performing and analytics on their web presence and website health in general.
Web CEO has keyword research tools, page rank checkers, backlink quality checker, content submission tools, social metrics, SEO analysis and so much more.
In order to cover everything Web CEO does in this review, I'd virtually have to mirror all of the information on their website, so I'll just keep things brief. At the end of this overview you can go on over to the Web CEO website and have a good look around to see if it's of benefit to you, your business and/or your clients. As mentioned you can even sign up for a free account and take it for a test drive.
The Benefits of Using Web CEO

Let's list the benefits for easy reference. After which I suggest taking a look at their website if Web CEO interests you.
15 must have online SEO tools; such as keyword research, safe link building and website audits

Branded SEO reports for your own company or done on behalf of your clients

Offer white label SEO tools on your own domain

Social metrics

Marketing analysis

Link building

Link optimisation tools

SEO analysis tool

Generate sitemaps

Technical audit tool, basically a site health report

Content submission tool for directories, blog communities etc.

Web buzz monitoring and social engagement tools

Marketing analytics; such as rank tracker, competitor metrics, Google Analytics
These are just some of the benefits and features of joining up with Web CEO. For a more thorough description and analysis, go on over and check out their site.
The Cons

Some of the packages have a pricey monthly cost to participate

Can be a bit of information overload when you first take a look at their site and try and get your head around it all
Web CEO Packages and Pricing

Free to get started, with a lot of tools available to use even with the free option. Beyond that, prices start at $75 per month. There is quite a bit of detail in each package, so it's easier to just go directly to the pricing page on their website and take a look.
Is Web CEO Recommended or Not?

If you are pushed for time, don't have the staff to deal with all of your company's own SEO and SMM needs, or need to be able to perform these functions and have the ability to produce professional branded reports for clients, then Web CEO certainly streamlines the process for you and renders all your online marketing efforts accessible in the one place. Very handy.
The free trial is an attractive offer and you can actually accomplish quite a bit with it. At least it gives you a chance to decide if you would like to, or need to, upgrade to a more advanced paid option of the Web CEO platform.
At any rate, give the banner below a click and check their website out for yourself. Take a good look around and see what you think. There are loads of useful tools there, even for free members, so why not take advantage of them?

Do What I Do To Make Easy Money Online!

Would you like a really simple online business that can bring in passive and residual income month after month, year after year consistently?
Consider starting an easy and cost-effective affiliate marketing business.
I make a fulltime living out of affiliate marketing and you can too.
Work your own hours from home with no boss to answer to. Go on vacation whenever you like. Even live and work overseas if that's your dream. It's the true laptop lifestyle.
Traditional businesses and regular jobs have one huge drawback. They tie you to a location. Affiliate marketing online means freedom. Freedom to roam and freedom to do what you like. No more getting up to the alarm clock. Spend more time with loved ones and just enjoy life.
To help you out I've written a complimentary guide. Inside I explain affiliate marketing and its many benefits, and just how simple the money making process really is.
I also talk about some essential training that I recommend. It sets you on the right path and it worked for me. You can join the training platform for FREE, so no risk at all. Just click the banner below to have a read.
The following two tabs change content below.
I am an author, online entrepreneur and internet marketer. I work from home and anywhere else in the world I choose to work. I've been making a living online since 2010, and you can do it too. I'm here to help.
Latest posts by Darren Burton (see all)